Articles
The Ghosts at the Feast: Contested settlement, land rights, and identity in the Jordanian Bādīya: Winner of the CNP Student Essay Prize 2020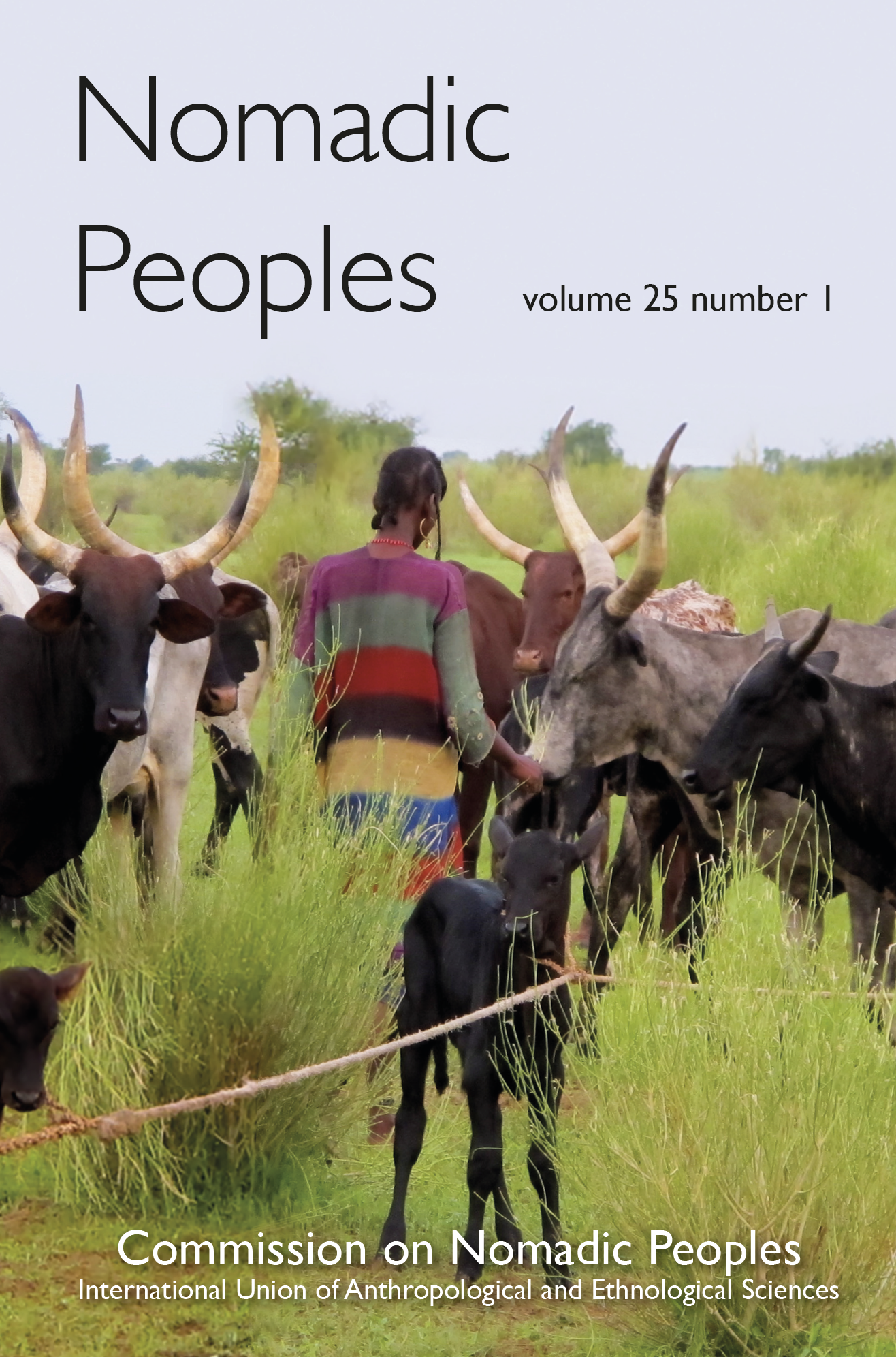 Published 2021-05-12
How to Cite
Wojnarowski, F. (2021). The Ghosts at the Feast: Contested settlement, land rights, and identity in the Jordanian Bādīya: Winner of the CNP Student Essay Prize 2020. Nomadic Peoples, 25(1), 36–58. https://doi.org/10.3197/np.2021.250103
Abstract
This article considers how enactions of hospitality, everyday politics and livelihoods in the largely sedentarised, but still discursively Bedouin villages south-east of Amman continue to be shaped by long, contested and intersecting processes of land settlement, sedentarisation and state encompassment. I combine a specific ethnographic encounter (a village feast and the anxious, tense talk about land that occurred at it) with a reading of history to show how ideas of settlement remain crucial, though contested, for understanding the positionality of former nomadic pastoralists in Jordan. I focus on how Jordan's Bādīya – its arid and sparsely-populated eastern steppe – has been conceived of as a socially, politically and legally different, but encompassed, part of the nation-state. This discourse, I argue, has precedents in deep history and classical Arabic thought, but has taken on a particular form in the postcolonial and developmental state of Jordan.
References
Abu Jaber, R.S. 1989. Pioneers over Jordan: The Frontier Settlement in Transjordan, 1850-1914. London: I. B. Tauris.
Al-Naber, M., and F. Molle. 2016. 'The politics of accessing desert land in Jordan'. Land Use Policy 59: 492-503.
Alon, Y. 2009. The Making of Jordan: Tribes, Colonialism and the Modern State. London: I. B. Tauris.
Baylouny, M.A. 2008. 'Militarizing welfare: Neo-liberalism and Jordanian policy'. Middle East Journal 62(2): 277-303
Bujard, J., D. Genequand and W. Trillen. 2001. 'Umm al-Walid et Khan az-Zabib, deux etablissements omeyyades en limite du desert jordanien'. MOM Editions 36(1): 189-218.
Chatelard, G. 2006. 'Desert tourism as a substitute for pastoralism? Tuareg in Algeria and Bedouin in Jordan'. In D. Chatty (ed.), Nomadic Societies in the Middle East and North Africa: Entering the Twenty-First Century, pp. 710-736. Leiden: Brill.
Chatty, D. 2016. Bedouin Tribes in Contemporary Syria: Alternative Perceptions of Authority, Management, and Control. Oxford: Oxford University Press.
DoS (Department of Statistics, Hashemite Kingdom of Jordan). 1952. 'Characteristics of buildings and housing, general population and housing census in Jordan'. Amman: Government Gazette.
Dresch, P. 1991. 'Imams and tribes: The acting and writing of history in Upper Yemen'. In P. Khoury and J. Kostiner (eds), Tribes and State Formation in the Middle East, pp. 252-287. Berkeley: University of California Press.
Fischbach, M. 2000. State, Society, and Land in Jordan. Leiden: Brill.
Hamarneh, M. 2003. 'Ma'an: An open-ended crisis'. Center for Strategic Studies, University of Jordan. http://jcss.org/Photos/634750951027786023.pdf (accessed 27 November 2020).
Harrigan, J., H. El-Said and C. Wang. 2006. 'The IMF and the World Bank in Jordan: A case of over optimism and elusive growth'. Review of International Organizations 1: 263-292.
Hughes, G. 2016. 'The proliferation of men: Markets, property, and seizure in Jordan'. Anthropological Quarterly 89: 1081-1108.
Hughes, G. 2018. 'Cutting the face: Kinship, state and social media conflict in networked Jordan'. Journal of Legal Anthropology 2: 49-71.
Johns, J. 1994. 'The longue duree: State and settlement strategies in southern Transjordan across the Islamic centuries'. In E. Rogan and T. Tell (eds), Village, Steppe and State: The Social Origins of Modern Jordan, pp. 1-31. London: British Academy Press.
Irwin, R. 2019. Ibn Khaldun: An Intellectual Biography. Princeton, NJ: Princeton University Press.
Lewis, N.N. 1987. Nomads and Settlers in Syria and Jordan, 1800-1980. Cambridge: Cambridge University Press.
Massad, J.A. 2001. Colonial Effects: The Making of National Identity in Jordan. New York: Columbia University Press.
Mufti, M. 2009. 'Jihad as statecraft: Ibn Khaldun on the conduct of war and em- pire'. History of Political Thought 30(3): 385-410.
Oweidi, A.S.S. 1982. 'Bedouin justice in Jordan: The customary legal system of the tribes and its integration into the framework of the state policy from 1921 onwards'. PhD thesis. Cambridge: University of Cambridge.
Palmer, C. 2002. 'Milk and cereals: Identifying food and food identity among Fall*hīn and Bedouin in Jordan'. Levant 34: 173-195.
Rabo, A. 1996. 'Gender, state, and civil society in Jordan and Syria'. In C. Hann and E. Dunn (eds), Civil Society: Challenging Western Models, pp. 155-177. London: Routledge.
Razzaz, O. 1994. 'Contestation and mutual adjustment: The process of controlling land in Yajouz, Jordan'. Law and Society Review 28(1): 7-39.
Rogan, E.L. 2002. Frontiers of the State in the Late Ottoman Empire: Transjordan, 1850-1921. Cambridge: Cambridge University Press.
Rowe, A. 2006. 'Conservation, land and nomadic pastoralism: Seeking solutions in the Wadi 'Araba of Jordan'. In D. Chatty (ed.), Nomadic Societies in the Middle East and North Africa, pp. 759-784. Leiden: Brill.
Rowton, M. 1974. 'Enclosed nomadism'. Journal of the Economic and Social History of the Orient 17(1): 1-30.
Scheele, J. 2019. 'Segmentation versus tyranny: Politics as empirical philosophy'. In J. Scheele and A. Shryock (eds), The Scandal of Continuity in Middle East Anthropology: Form, Duration, Difference, pp. 187-203 Bloomington: Indiana University Press.
Scott, J. 1998. Seeing Like a State: How Certain Schemes to Improve Human Conditions Have Failed. New Haven, CT: Yale University Press.
Shah, M. 2003. 'Exploring the genesis of early Arabic linguistic thought: Qur'anic readers and grammarians of the K'fan tradition (Part I)'. Journal of Qur'anic Studies 5(1): 47-78.
Shoup, J. 1985. 'The impact of tourism on the Bedouin of Petra'. Middle East Journal 39: 277-291.
Shryock, A. 2004. 'The new Jordanian hospitality: House, host, and guest in the culture of public display'. Comparative Studies in Society and History 46: 35-62.
Shryock, A. 2012. 'Breaking hospitality apart: Bad hosts, bad guests, and the problem of sovereignty'. Journal of the Royal Anthropological Institute 18: S20-S33.
Shryock, A. 2019. 'Keeping to oneself: Hospitality and the magical hoard in the Balga of Jordan'. History and Anthropology 30(5): 542-562.
Tell, T. 2013. The Social and Economic Origins of Monarchy in Jordan. London: Palgrave Macmillan.
Tidrick, K. 1990. Heart-Beguiling Araby. London: I.B. Tauris.
Watkins, J. 2014. 'Seeking justice: Tribal dispute resolution and societal transformation in Jordan'. International Journal of Middle Eastern Studies 46: 31-49.
Wojnarowski., F. 2021 'Unsettling times: Land, political economy and protest in the Bedouin villages of central Jordan'. PhD thesis. Cambridge: University of Cambridge.
Wojnarowski, F., and J. Williams. 2020. 'Modernising mansaf: The interplay of politi- cal economy and identity in Jordan's "national dish"'. Contemporary Levant 5(2): 161-177.